The Hanover Inn
The Hanover is a traditional Harwich fisherman's pub next to St. Nicholas's Church and is well known for its participation in all types of pub games. It also offers hearty lunchtime and evening food.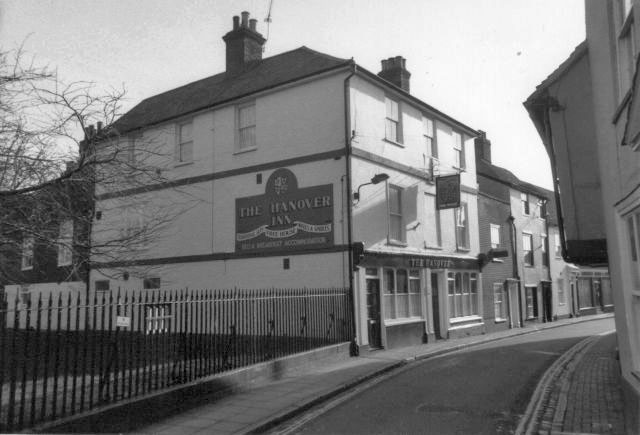 History
Like many Harwich buildings the Hanover has had a number of uses over the years but the building we see today probably started out as a house, or houses, in the late 18h Century. It is built in brick, which is part painted and part rendered, and has a hipped roof covered with Welsh slate.
It became the Hanover Square Dining Rooms in the late 1850s and probably became licensed as a beer house to support these activities. The establishment was founded by William Lawrence, the son of a farmer from Aspall in Suffolk.
The Star of the East reported on Friday 26th October 1888:
FIRE. On Wednesday evening the Hanover Square Dining Rooms, Harwich, the property of Mr. W. Lawrence had a very narrow escape of being destroyed by fire through the accidental falling of a paraffin lamp, which being suspended to a beam in the dining room, fell on to a table and broke, setting fire to the table cloth, carpets, rugs &c. But for prompt and praiseworthy conduct of Mrs Lawrence and her daughter a serious conflagration must have occurred, and the house no doubt would have been destroyed. Mrs. Lawrence's clothing caught fire, but happily she was not injured. We understand Mr. Lawrence was insured.
William Lawrence was a popular landlord and kept a clean and tidy inn, laying on meals and providing lodging for parties visiting Harwich. As time went on he slowly returned to farming with a sizeable milking herd and probably also growing vegetables – in 1895 he was advertising for a "Young man to milk and plough" in the East Anglian Daily Times. At that time his daughter Alice was looking after the Dining Rooms and William simply declares himself to be a farmer.
By 1901 the Lawrence family had left the Hanover and were running the farm from Albermarle Street on the Bathside. Gertrude Curtis had taken over at the Hanover and seven years later in 1908 Harriet Dorman was the new proprietor – staying on until 1925.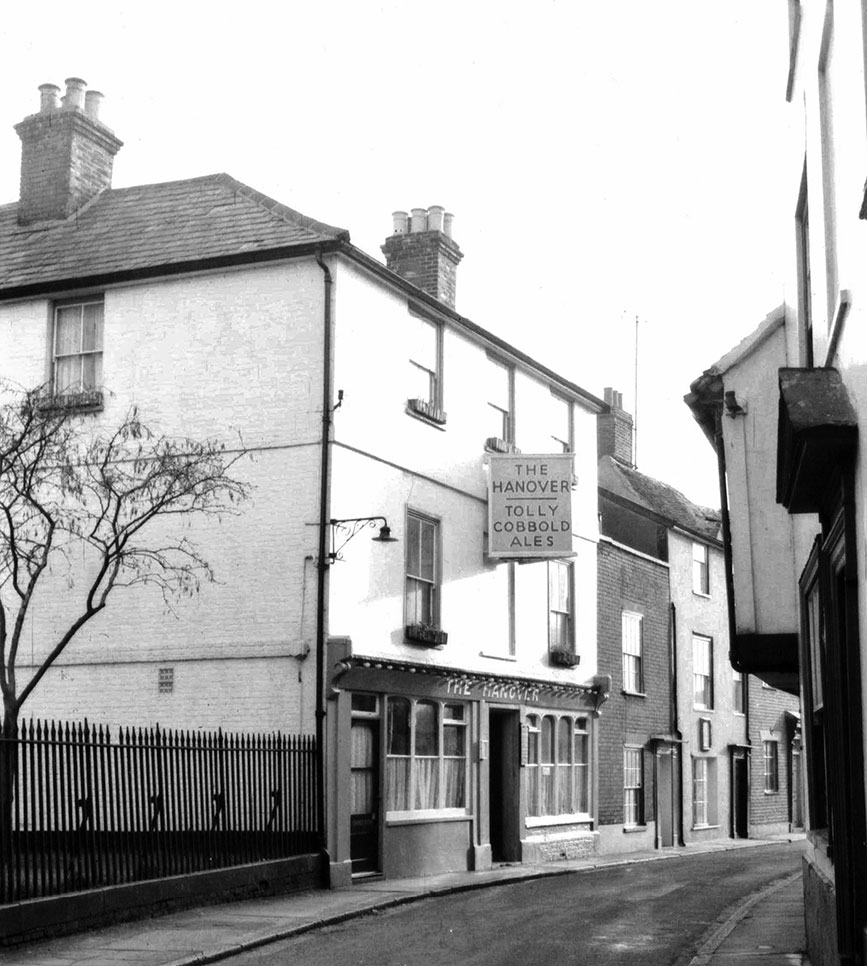 In more recent times – probably after the war – the Hanover was acquired by the mighty Cobbold empire, becoming Tollemache and Cobbold when the Ipswich brewers merged in 1957. Around this time the Hanover became fully licensed so it could serve wines and spirits in addition to beer.
The Hanover Inn was listed Grade II by English Heritage in 1972.
When Tolly Cobbold collapsed in 1989 legendary landlord Barry Mackness bought the pub and ran it until his retirement in 2016. The pub is now owned and run by Rob and Teresa Ranson.
Notable Facts, Things to Look Out For
Incorporated into the rear wall, viewable from the churchyard, is part of the ancient Harwich town wall built of septaria.
Inside, the front bar has some great Tolly Cobbold memorabilia dotted about.